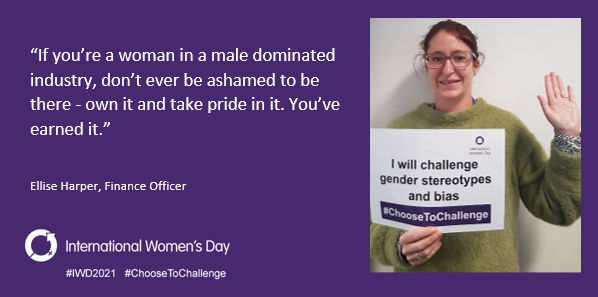 In celebration of International Women's Day on March 8, we spoke with women from across our organisation about their role, how being a woman has affected their career, and advice for other women looking to enter a similar role.
Ellise Harper, Finance Officer
You are our Finance Officer at Nexus. Is this a role that you always wanted to do? How did it change?
I actually never planned on entering a career in finance – I started off as a concreter building in-ground swimming pools on and off for 10 years.
I worked at a couple of backpacker hostels and then moved up to become a reservations manager at Hadley's Hotel. While I was there I started studying again and earned an Advanced Diploma in Tourism and Management. When my son was born I struggled with shift work for 12 months. It was then I thought, if there was ever a good time for a career change, this was it.
After seven years at Hadley's, I successfully got an opportunity to work at WLF Accounting & Advisory as a Client Support member. In this position I learned that I have a strong passion for finance, numbers and helping clients. When the position at Nexus became available I jumped at the opportunity! Four months on and I am absolutely loving my new job and the amazing Nexus team!
Do you think there's a stereotype associated with women working in finance?
In all honesty, I always thought that finance was a more male dominated sector. However, in recent years I think there has been a massive turnaround. I feel that women are now doing a lot of their own personal finances, particularly those running a household budget. This gives many of them the skills needed for a job in finance!
What is the most important piece of advice you'd give to a woman looking to take on a similar role to yours?
Just do it. All you can do is your best. I came into finance by chance only 12 months ago with no specific finance experience and look at me now! I think many women would be surprised by how well suited they would be to a role in finance even if they've never worked in it before – and really, what's the harm in trying?
What does the 2021 International Women's Day slogan #ChooseToChallenge mean for you in your work life?
I challenge myself every day. I'm still learning to recognise my own biases but I take every moment in my stride and if I make a mistake then I just pick myself up again.
I have worked in a very male dominated workplace being a tradie. I felt compelled to prove myself daily, but I shouldn't have had to – it was my job because I was capable of doing it. Even if I was smaller and sometimes not as strong as some of the men, I made sure that I was never treated differently. I called people out on their behaviour towards me and I think that needs to be done. If you're a woman in a male dominated industry, don't ever be ashamed to be there – own it and take pride in it. You've earned it, so don't let anyone take that away from you.
Which women have influenced you the most in your life?
My celebrity influence would have to be Audrey Hepburn, I love her. I love her UNICEF work and her constant want to help others. I like her spunk and her vibrancy. Recently I had a book gifted to me called "What would Audrey do?" It's full of inspirational thoughts and insights.
My whole family is full of very strong-minded women so I could never single just one of them out. We are all amazing!

"Though she be but little she is fierce" – William Shakespeare, A Midsummer Night's Dream