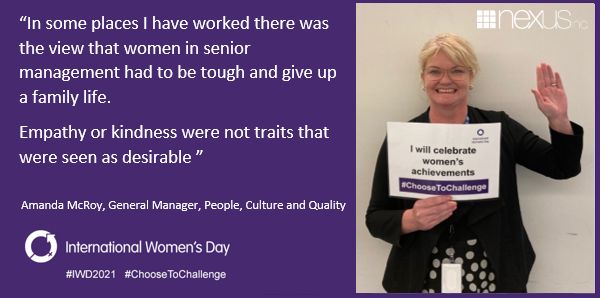 In celebration of International Women's Day on March 8, we spoke with women from across our organisation about their role, how being a woman has affected their career, and advice for other women looking to enter a similar role.
Amanda McRoy – General Manager of People, Culture and Quality
You are the General Manager of People, Culture and Quality. Is this role what you always wanted to do?
When I left school I became a customs agent and worked in the freight/postal industry in various roles. I worked my way up to senior management, in a male dominated industry, but knew I wanted to do something more meaningful. I wanted a role where I could influence the culture of an organisation and be a part of the change.
When my kids were small I completed my Bachelor's Degree and then undertook Post Graduate studies. For a while I worked full time and studied full time. I was thankful to work for an organisation that helped support my studies and career development. I worked my way up to the level I am at now in some pretty interesting roles.
Do you think there's a stereotype associated with women in Management roles?
I think that it is slowly breaking down.
Some places I worked had the view that women in senior management had to be tough and give up a family life. It was assumed that you wouldn't have time for a partner or social life, and certainly not for children.
Empathy or kindness were not traits that were seen as desirable.

What is the most important piece of advice you'd give to a woman looking to take on a similar role to yours?
It is really important to work for the right organisation – you need to make sure that your own values and ethics align with that of your new company. I think it is really important to work for someone who inspires you.
What does the 2021 International Women's Day slogan #ChooseToChallenge mean for you in your work life?
#ChooseToChallenge resonates with me. For me it means that everyone has the right to challenge when things don't feel right. When we challenge things, we are showing that we care. We can provoke different ways of thinking and we can make improvements.
Which women have influenced you the most in your life?
Jacinda Ardern, New Zealand's current Prime Minister – she is an amazing leader and communicator. I think she has a great approach to social equity such as free lunches and period products in schools.

Helen Clark, former New Zealand Prime Minister / United Nations legend – she is down to earth, intelligent and applauded for the amount of things she got done during her time at PM.

Renee Giarrusso – I met Renee virtually last year during COVID-19 (we still keep in touch) and she has been a huge influence to me. I've just finished reading her book, Gift Mindset, and I love her positive approach to leadership and culture.