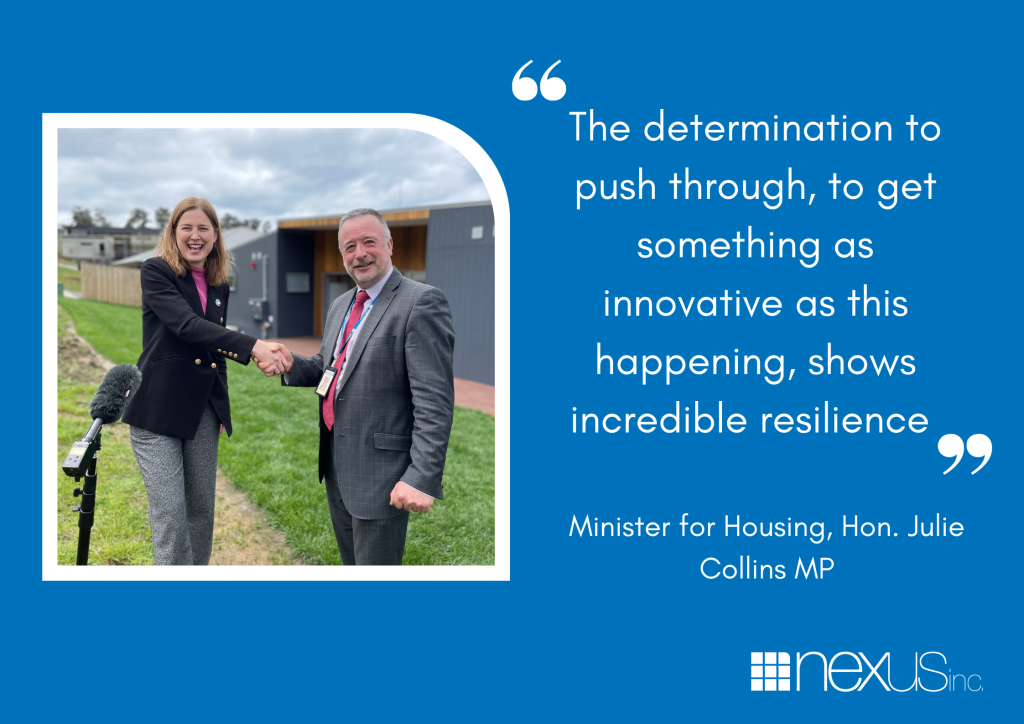 With a glowing endorsement from Federal Housing Minister Julie Collins MP, our brand-new Supported Independent Living property in Kingston has been officially opened.
The purpose-built property, which provides accommodation to six people living with disability across three two-bedroom units, is a joint project of Nexus and Supported Affordable Accommodation Trust (SAA Trust)
The outdoor opening was brimming with guests, including many local politicians, who had come to learn about the new initiative. Guests were also treated to hot spiced apple juice and apple and apricot jam made from apples picked by Nexus clients.
"Disability and disability housing has become an issue for politicians, whereas for many years it was tucked away," Nexus CEO Mark Jessop said. "So I am pleased that we have been able to achieve that [political interest today]."
The Minister congratulated Nexus and the SAA Trust on their achievement which is "testament to your remarkable efforts".
"The determination to push through, to get something as innovative as this happening, shows incredible resilience," she said.
The SAA Trust received a $6 million Federal Government grant under the Improving Social Housing Outcomes Program, which provided funding for the Kingston house and eight other sites.
"What it shows is that when governments are able to invest in innovative things, amazing things happen," The Minister said.
With Tasmania's soaring rental prices and housing shortages, it is hard for prospective renters to put a roof over their heads.
"There are many NDIS participants on pensions and low wages that have to rely on a social housing model to find housing and this property is an excellent step into that space," Mark said.
The Kingston property provides three units, each with two ensuited-bedrooms, an open-plan kitchen, living and dining area, along with separate staff quarters tucked away inside.
"People often say, 'how can I find your Nexus houses', because they always look the same as every other house in the street," Mark said.
"That is what we try to achieve, that people with a disability should be living life like anybody else."
SAA Trust chair Bob Gordon said there was demand in the state for up to 200 more houses just like the Kingston property, particularly in rural and regional areas.
Mark agreed and said there was particular demand in the far South of the state in general, with two clients of the Kingston property coming from Huonville.
Bob said the "SAA Trust attracts funds and builds the houses, then leases them out for 20 years to the (NDIS) service providers".
Nexus clients then rent the units of the Kingston house at affordable rates.
"The three criteria we had in design was; it had to be somewhere that you or I would be happy to live in, it had to be energy efficient and low maintenance, and it had to have the right social mix of people," Bob said.
"One of the great things is to see the reaction of people who for the first time have their own house to live in. To have somewhere of their own to live in that is fit for purpose and suits them."