Congratulations to Customised Employment client, Clayton, for this excellent article written about his market stall.
His story was shared as part of International Day of People with Disability on Saturday, December 3.
Clayton has been selling apples and juices at the New Norfolk and South Arm markets, providing a great example of using initiative to find paid work you are passionate about.
The annual International Day of People with Disability (IDPwD) is a United Nations sanctioned day celebrating the achievements of people with disability, and raising awareness of the work still to be done to create inclusive communities.

Thank you to Damian Bester, Editor of the New Norfolk and Derwent Valley News, for sharing Clayton's apple adventures in the latest edition.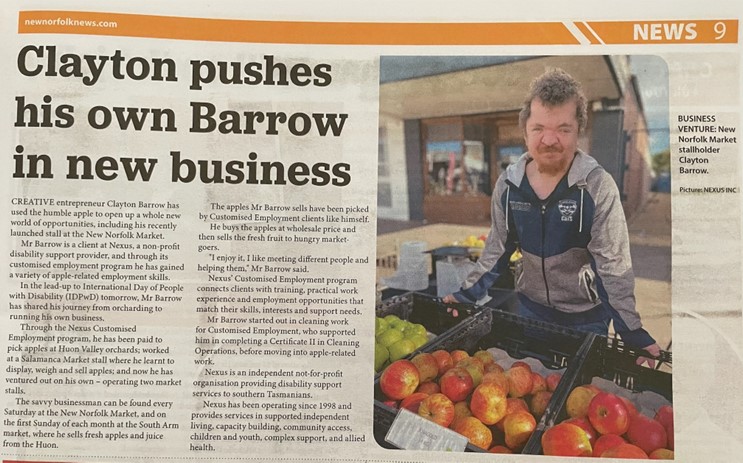 New Norfolk News Article text:
Creative entrepreneur Clayton Barrow has used the humble apple to open up a whole new world of opportunities, including his recently launched stall at the New Norfolk Market.
Mr Barrow is a client at Nexus, a non-profit disability support provider, and through its customised employment program he has gained a variety of apple-related employment skills.
In the lead-up to International Day of People with Disability (IDPwD) on December 3, Mr Barrow has shared his journey from orcharding to running his own business.
Through the Nexus Customised Employment program, he has been paid to pick apples at Huon Valley orchards, worked at a Salamanca Market stall where he learnt to display, weigh and sell apples, and now he has ventured out on his own – operating two market stalls.
The savvy businessman can be found every Saturday at the New Norfolk Market, and on the first Sunday of each month at the South Arm market, where he sells fresh apples and juice from the Huon.
The apples Mr Barrow sells have been picked by Customised Employment clients like himself.

He busy the apples at wholesale price and then sells the fresh fruit to hungry market-goers.
"I enjoy it, I like meeting different people and helping them," Mr Barrow said.
Nexus' Customised Employment program connects clients with training, practical work experience and employment opportunities that match their skills, interests and support needs.
Mr Barrow started out in cleaning work for Customised Employment, who supported him to complete a Certificate II in Cleaning Operations, before moving into the apple related work.

Nexus is an independent not-for-profit organisation providing disability support services to Southern Tasmanians.

Nexus has been operating since 1998 and provides services in supported independent living, capacity building, community access, children and youth, complex support, and allied health.