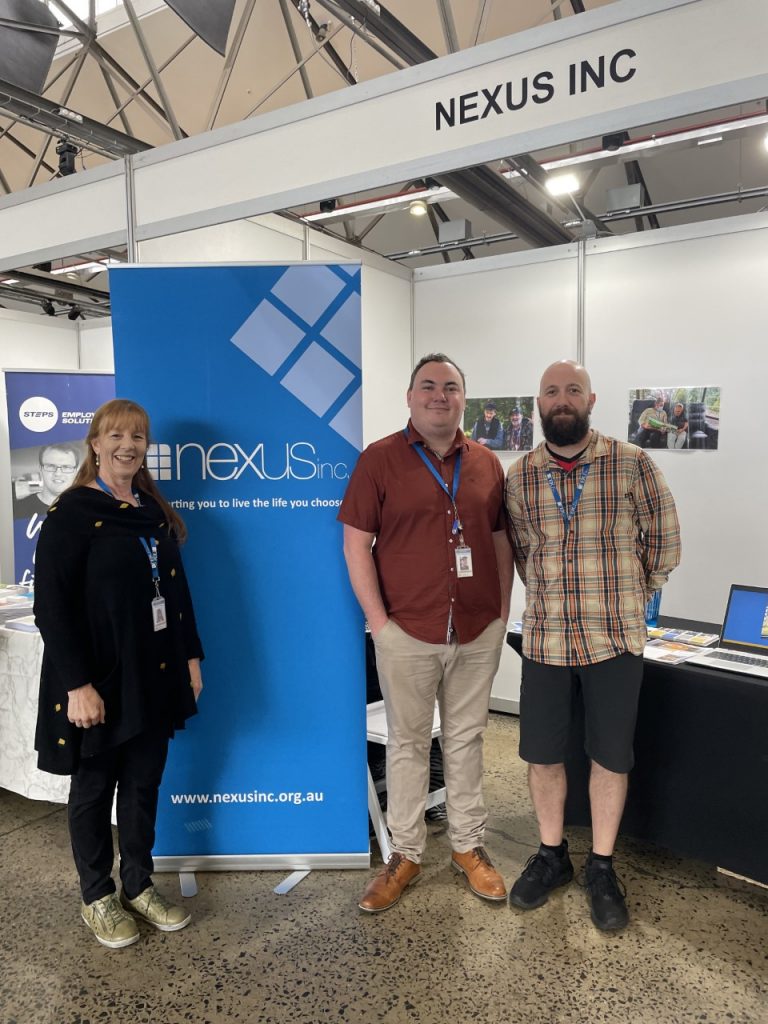 Piles of fliers had to be quickly replenished at the Speak Out Disability Expo as Nexus Inc staff busily engaged with a large number of potential clients.
The annual expo held on Wednesday September 21 at Hobart's PW1 was entitled Gearing Up for Choice and Control and there was a huge level of interest in Nexus' services that offer just that.
Popular this year were our SEED social enterprise, our Customised Employment program, the brand new offerings from our Children and Youth team, our range of Supported Independent Living properties, and our variety of Capacity Building opportunities. Staff were thrilled to connect people with the support that suits them best.  
The SEED social enterprise provides an innovative solution to overcoming some of the biggest barriers to employment for people with a disability. SEED offers domestic and commercial cleaning and gardening services, as well as fruit picking and orchard operations, where clients get paid award wages.
"There is just nothing else like it out there, other ventures have traditionally offered low earnings but we offer award wages," SEED Manager Jackie said.
"We believe that if people are doing the job they should be paid for the job.
 
"People are also pleased with the Customised Employment Service that we offer too which bridges a big gap; providing capacity building so clients can gain the skills they need and then they can find a job and succeed at it." 
Parents were excited to find out about the recently launched Children and Youth services at Nexus, with a world of support now available.
"We are starting to onboard children aged seven years and older in the past month which is really exciting," Capacity Building Team Leader Glenn said.

"We have been helping them get out in the community to connect them with different activities they are interested in and to create meaningful relationships with others.

"There has also been a huge amount of interest in the two respite services soon to open in Bridgewater over the next couple of months, which provides a great opportunity for parents."
The market for Supported Independent Living has been transformed over the past five years, with a large interest developing in housing for youth.
"They are at an age where they are ready to move out and spread their wings," Supported Independent Living Assistant Manager Matthew Pearce said.

"20 years ago we were focused on housing people from Willow Court when it closed, and now it has all changed and finding youth a home is a growing area.

"We also help to prepare them for this transition by capacity building, teaching them domestic tasks."
Another interesting outcome from the expo was the interest from TAFE graduates in becoming a support worker, with Nexus being renowned for its comprehensive and ongoing training and development of all employees.